Ind v sa 3rd test live score
Download link:
---
---

➡ Click here: Ind v sa 3rd test live score
---
Has the pitch gone to sleep...... Our partners use cookies to ensure we show you advertising that is relevant to you. If you are unable to follow the full scorecard of India vs South Africa, 3rd Test, then First Published: Jan 26, 2018 11:57 IST.

But Phehlukwayo has reviewed it. One to cherish for a long time. Bhuvneshwar Kumar has the new piece and will start the proceedings from India. From a bowling poiint of view, we weren't consistent. After plenty of deliberation, it was finally decided that the Test would resume but we all hope that no player gets hurt seriously today. He surely will get a lot of pats on his back in the dressing room if he can stretch the Indian innings to 200 now.
Parthiv Patel's breezy run comes to an end after Aiden Markram takes a brilliant catch at third slip. Shami ultimately perishes after living dangerously for some time now, lobbing one over to Rabada at mid off after hitting off the toe end of his bat. India are only two wickets away from a famous win. Rookie pacers Lungi Ngidi, who was the man of the Match in the last game will be crucial once again along with Vernon Philander, Morne Morkel and Kagiso Rabada.
Full cricket score, India vs South Africa, 3rd Test, Day 3: SA 17/1, need 224 - It will be interesting the amount of purchase the seamers get after the amount of rain the venue has copped. This is going to be interesting with just over two days of play left.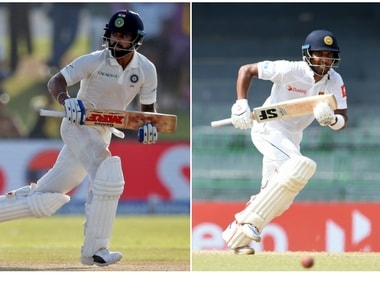 NOT OUT changed by umpire to OUT after REFERRAL. Mohammed Shami to Lungi Ngidi. Length ball, outside off stump on the front foot defending, missed to wicketkeeper. Unbelievable, Elgar is left stranded on 86 as Ngidi tries to defend the ball and the Indian players appeal for it enthusiastically. It's given not out on the field but India review the decision and there's a fine outside edge through to the keeper. Ngidi departs for four and India have won this Test match! What a brilliant day of cricket we have witnessed here from a neutral perspective. Unfortunately for South Africa, their hard work at the start of the day was unravelled as the pitch took hold and the bowlers found their line and lengths. It was too difficult for the new batsman to play themselves in and a collapse has left them 63 runs short of India. It really has been an entertaining Test match here at the Wanderers, albeit perhaps one surrounded with controversy, a result was reached an in an entertaining fashion nonetheless. In a slight piece of irony, Elgar is left standing, carrying his bat through the most difficult of conditions after being hit in the helmet in a moment that brought a premature end to yesterday's play. The final wicket gave Shami his five-for, in a scintillating spell of bowling which helped swing this game back in their favour and ultimately hand India victory. Bhuvneshwar Kumar to Dean Elgar. Length ball, outside off stump on the front foot slog sweeping, well timed in the air under control over deep square leg for 6 runs. Elgar finishes the over with six as he realises the need to switch gears, slog-sweeping away to the square-leg boundary for the first maximum of the innings. It does leave Ngidi on strike for the first ball of the next over however. Mohammed Shami to Lungi Ngidi. Half volley, outside off stump on the front foot driving, well timed past long off for 4 runs. Ngidi punishes him with a powerful drive down the ground for four, potentially the shot of the day as the ball raced down the ground for four and a huge roar comes up from the crowd, the first boundary of the innings to be hit back down the ground. Admittedly, his technique wasn't quite out of the textbook. Yorker, off stump on the front foot dropped, to gully for 1 run, shy attempt by Pandya. How did Pandya miss that! A suicidal run from The South Africans and Pandya could of thrown the ball about three times, deciding to get as close as possible before throwing the ball at the stumps. He still misses though! It was probably harder to miss than it was to hit in that situation. Mohammed Shami to Morne Morkel. Yorker, middle stump on the front foot defending, missed. Shami is bowling in the form of his life and gets Morkel with a perfect yorker delivery on his first delivery. Dejectedly he walks back to the pavilion for a golden duck. India are now just one wicket from victory, truly outstanding cricket from India who fully deserve this. Ngidi walks to the crease. Bhuvneshwar Kumar to Kagiso Rabada. Length ball, outside off stump on the front foot pushing, outside edge to slips, by Pujara. Geuninely unbelievable cricket here as South Africa lose another, their seventh in the last 36 runs, as Rabada edges through to the slips and Kumar has his first wicket of the day. It's an oustanding fightback from India who despite a large amount of pitch assistance, have finally started to find the line and lengths in this innings that is seemingly striking fear into the South African batting line-up at the moment. We're well into the tail now, and the resilt in Indias favour is looking more and more likely. This includes cookies from third party social media websites and ad networks. Such third party cookies may track your use on Mykhel sites for better rendering. Our partners use cookies to ensure we show you advertising that is relevant to you. If you continue without changing your settings, we'll assume that you are happy to receive all cookies on Mykhel website. However, you can change your cookie settings at any time.